Magnussons® Petfood AB is een familiebedrijfje uit Bro, Zweden. Zij begonnen met het bereiden van gezonde voeding voor hun Duitse Doggen kennel. Stilaan kregen ze aanvraag van collega-fokkers uit de buurt om ook voor hun deze artisanale voeding te maken. Door mond-aan-mond reclame werd de aanvraag zo groot dat de Magnussons verplicht waren om een grote bakkerij broodoven aan te kopen en de rest is geschiedenis.
Het bedrijf besteedt zeer veel aandacht aan het milieu environmental-policy-social-responsibility en verbruikt enkel water-gegenereerde groene stroom. De warmte van de bakkerijovens wordt ook herbruikt om het bureel en het huis te verwarmen. De grondstoffen van de voeding komen van boerderijen uit de directe buurt, dit om de CO2-vervuiling tegen te gaan. De papieren verpakkingen zijn 100% recycleerbaar, enz.
Alsook doneren de Magnussons elke maand 150,00 Zweedse Kronen aan een sociaal project hungerprojektet.se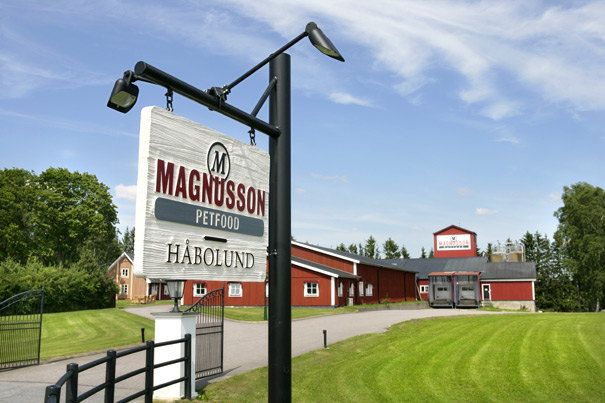 De Magnusson® Keukens in Bro www.hundmat.com
Hello,
As you are all aware, we have for many years applied higher standards to our production and raw materials than most other pet food producers and the general regulations. For example, the Magnusson Meat & Biscuit range includes only fresh Swedish meat and all ingredients are of human-grade quality. We also only use raw materials of Swedish origin, as Sweden's agriculture is among the cleanest in the world, with the lowest usage of antibiotics and pesticides in the EU.
As of January 2018 we are very proud to announced that we raised the bar even further when we became the first Swedish pet food producer to be fully accredited by human-grade standards – IP Food. This means inter alia that sourcing, the production process, hygiene standards, labelling and risk management meet the same requirements as for human foodstuff production.
For further information about the certification please see the link below
http://IP-Certifiering/CERTIFIERING/
Kind regards,
Jonas Magnusson